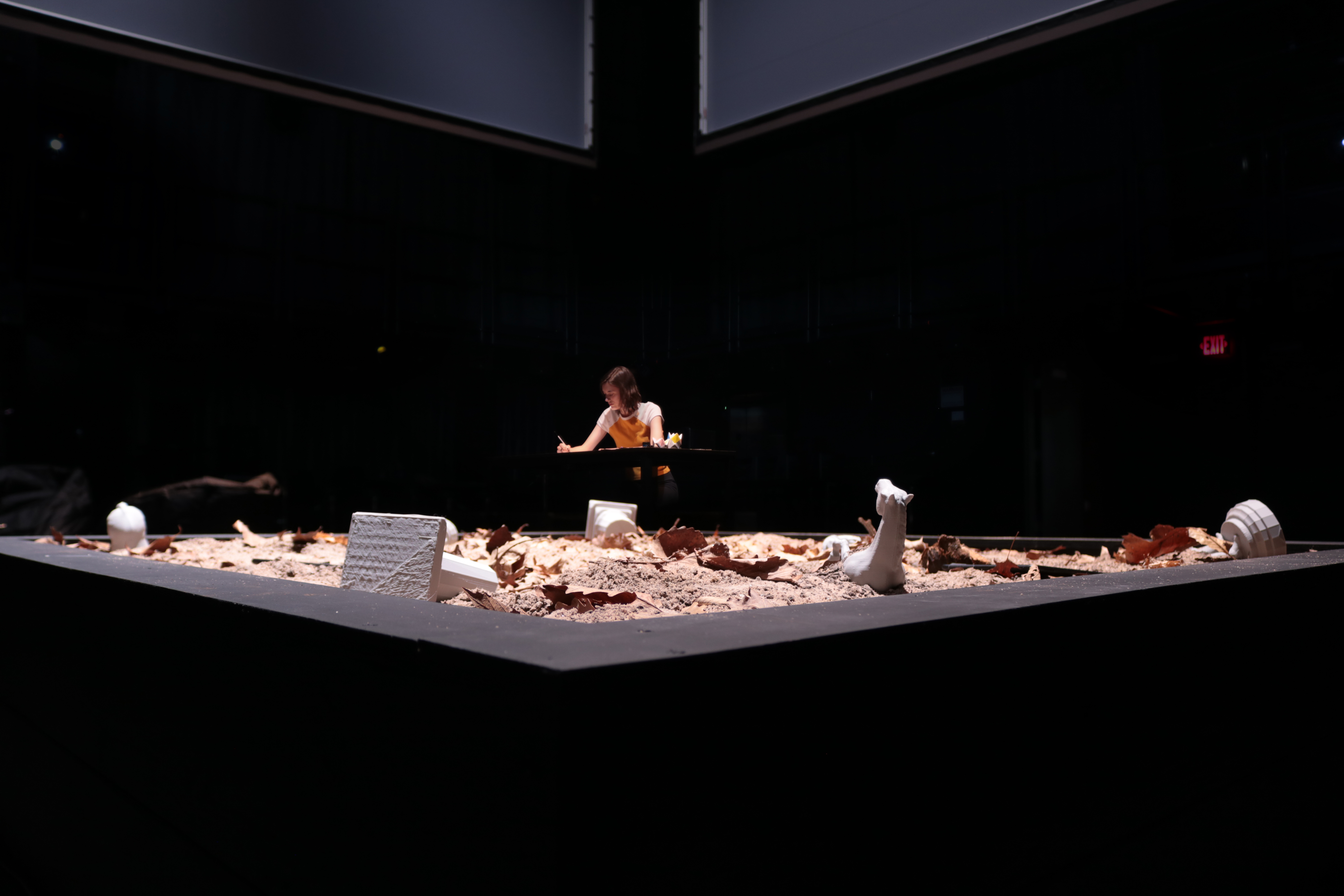 Monuments Dissected: Engaging Public Art and Contested Spaces
Monuments Dissected: Engaging Public Art and Contested Spaces is an installation and musical performance. The work centers around a growing collection of audio interviews about the past, present, and future of confederate and colonial monuments in the US.
The main creator of the project is Meredith Drum. Her collaborators include musicians Annie Stevens, John Irrera, and Grisha Coleman; sound designer and engineer Tanner Upthegrove; and choreographer Rachel Rugh. Drum received graduate assistance from Bryce Burrell
With a grant from Virginia Tech's ICAT (Institute for Creativity, Art and Technology), the team was able to commission music from two internationally celebrated artists Grisha Coleman and Marcus Norris.
The first iteration of the project was presented in The Cube, Moss Art Center at Virginia Tech, April 21-23, 2022. More recently, two sections of the project were included in the InLight 2022 outdoor exhibition in Bryan Park, Richmond, VA November 18 and 19, 2022.
---
To hear the musical compositions and listen to some of the interviews, please click here.
Interviewees whose voices you will hear as part of Grisha Coleman's sound work: Artist Charlie Newton, Professor Biko Agozino, Artist and Community Activist Josiah Golson, and Dr. Kerri Moseley-Hobbs.
---
Meredith Drum is the project's instigator, producer and visual artist; she is a white woman. Since the project interrogates the history of race in the U.S., Drum will include information about how each participant self-identifies in terms of race and/or ethnicity. She recognizes that these categories are not neutral and are rather fraught with problems but she still thinks it is useful to bring the participants' identities to the forefront.
The music for Monument Dissected, in the form of two scores, was commissioned specifically for the project and created by two award-winning Black composers. One score was composed, performed, and produced by Grisha Coleman, an artist based in New York City and Phoenix, AZ. The second score was written by Marcus Norris, an artist based in Los Angeles and Chicago. Norris's score will be performed live by percussionist Annie Stevens and violinist John Irrera, who are both white musicians on the faculty of Virginia Tech; their students will perform alongside. Rachel Rugh, a white choreographer who is also faculty, will offer choreographed movement on Saturday evening with guest dancers. Tanner Upthegrove, a white audio engineer who works for ICAT, produced the spacial sound design.
In addition to the music, the installation also includes projections on four screens, a video sculpture, a drawing table where visitors are invited to imagine potential public art to fill the vacant spaces where the monuments are removed, and a listening station where visitors can listen to longer sections of the interviews.
---
Meredith Drum has been conducting these interviews for two years in collaboration with her graduate assistant Bryce Burrell, who is a young Native American and Black artist. They have spoken with a range of individuals who live across the U.S. working as community leaders, activists, educators, scholars, students, and artists. The interviewees have self-identified as Black, white, Asian, Korean-American, Cambodian-American, Italian-American, and mixed-race. The sound of their voice as they tell their story is central to the project. Their narratives are rooted in their experience of the monuments in relation to racism as well as in their research and reflection on the role the monuments play within local, national, and international systems of oppression and injustice. Some of the interviewees have offered personal stories about their feelings of exclusion when they see images related to the confederacy. Others have analyzed the symbolic violence of the monuments in relation to ongoing racist systems. And others describe potential liberatory sculptural works to fill the vacated public spaces in their cities.
---
Monuments Dissected has been made possible, in part, by grants from the Virginia Tech Institute of Creativity, Arts and Technology and the Center for Human Computer Interaction.
---
Musicians Performing Marcus' Norris's The Land Makers Her Own Artists:John Irerra (violin), Annie Stevens (vibraphone) with their students: Noah Blanco-Alcala (violin), Thomas Cummins (viola), Samuel Abernathy, (cello), and the percussion ensemble includes Mina Black, Peyton Gentry, Matthew Homoroc, Miranda Hughes, and Ivan Rivera Jimenez.
Dancers performing on Saturday night: Rachel Rugh, Julia Basso, Catalina Hernandez-Cabal, and Audrey Reeves with choreography by Rachel Rugh.
Please download the program for the performances here.