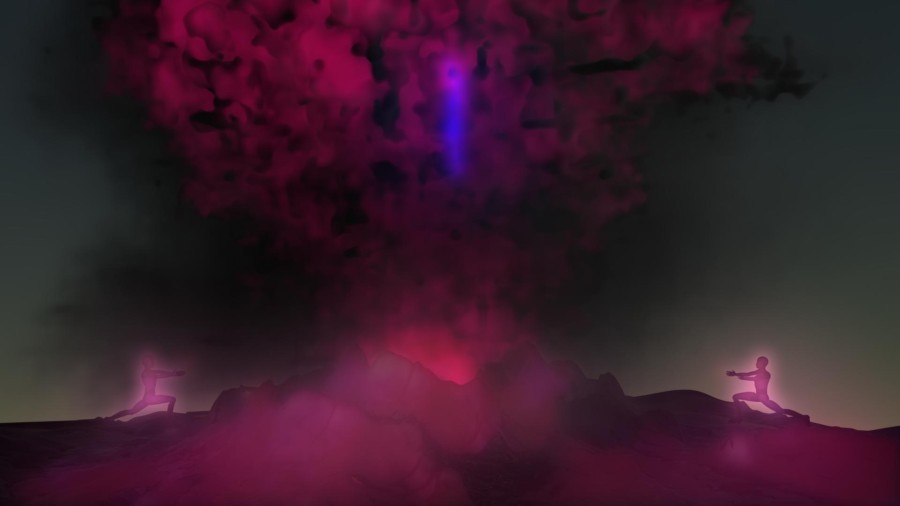 The Chthulu and the Final Girl is inspired by Donna Haraway's recent writing on the Anthropocene, Capitalocene and Chthulucene. In particular, it is energized by Haraway's focus on chthonic entities, figures of creation and destruction – metonymies for forces that may "make possible partial and robust biological-cultural-politicaltechnological recuperation and recomposition."1 The work also rises out of Drum's interest in the final girl trope: the female survivors of horror films interpreted as potent, if murky, icons of power, resistance and speculative feminism.
The animation's score was composed by Catherine Cloutier.
1) Donna Haraway, "Anthropocene, Capitalocene, Plantationocene, Chthulucene: Making Kin." Environmental Humanities. V 6, 2015, p. 160.
Drum is interested in the centrality of the issues of gender and power in slasher horror films: perceived transgressions against traditional morality especially by women can cause characters' downfalls but equally it is often the final girl who emerges alive and victorious at the end of the film. Drum's goal is to explore how the horror genre normalizes and/or challenges hierarchies of physical and psychological dominance. The writings of theorist Donna Haraway have also influenced Drum. Haraway used the term Chthulucene to describe the Anthropocene – the epoch when human activities significantly and globally impact the Earth. Haraway's use of Chthulucene is complex. It is not an homage to the early 20th century American science fiction writer H.P. Lovecraft's misogynist and racist monster, the Cthulhu. Rather, it references a diverse group of female divinities, powers and forces from around the world. Haraway uses the idea of a giant and powerful Feminist science and science fiction to re-think, retell and re-world our possible future.
– Sara Cochran, Director and Chief Curator, Scottsdale Museum of Contemporary Art (SMOCA), in Arizona; the text was written for the exhibition Push Comes to Shove: Women and Power at SMOCA in 2016
Watch the animation here; please note that it is a perfect loop meant to repeat in a gallery, and this link only plays once through: https://vimeo.com/247872965